HydroMassage DRY
HOT WATER THERAPY
What is
HydroMassage?
HydroMassage® beds and loungers use heated water to aid recovery after a workout, or to simply provide a more convenient relaxing and rejuvenating massage experience. Offering all the benefits of a traditional massage, but without the hassle of booking an appointment with a masseuse, getting undressed, or showering afterwards.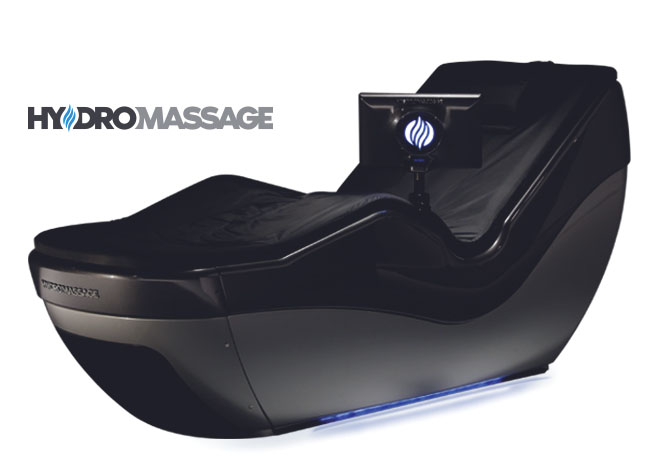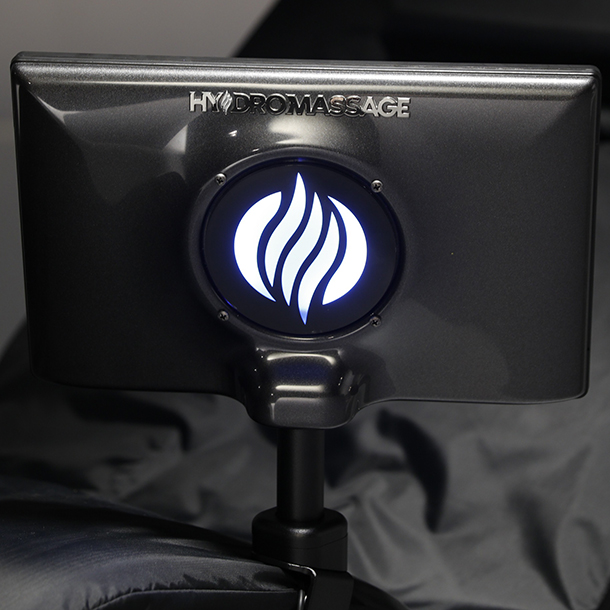 The complete wellbeing package
Fitness and recovery come hand-in-hand. If you have a quality fitness offering, adding a state-of-the-art recovery solution means you have the whole package. You're providing members a unique experience to enhance their overall wellbeing with post-workout relaxation, recovery, and rejuvenation. HydroMassage® zones are already in many of the top fitness club chains around the world, and can easily be part of yours, too.
Why members will
love HydroMassage
Provides temporary relief of minor aches and pains.
Help with muscle soreness, stiffness and tension.
Increased circulation in massaged areas.
Deep relaxation for improved wellbeing.
Reduced stress and anxiety.
No need to book an appointment.
No need to travel elsewhere.
No need to undress or shower afterwards.
No third party required.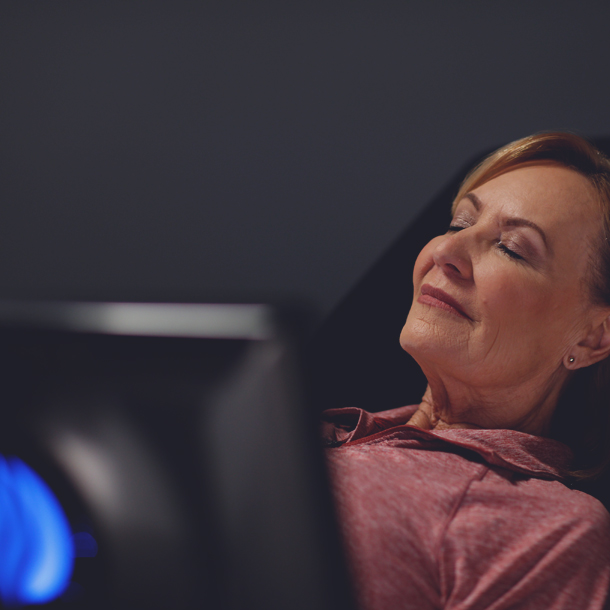 Why you'll love
HydroMassage
Adding recovery and relaxation to provide a more complete wellness package helps you attract a broader range of members. And if members know they can get everything they need from your facility, they're less likely to look elsewhere. Plus, with no 3rd party involved in your new offering, you can reap more of the financial benefits.
Calculate the financial benefits of HydroMassage® beds and lounges to discover the potential profit they can add to your business.
Calculate
Easy to use, even
easier to enjoy
What each person wants and needs from a massage is different. HydroMassage® beds and loungers have customisable touch screens to enable users to tailor their massage, including the speed, intensity or muscle groups they want to target.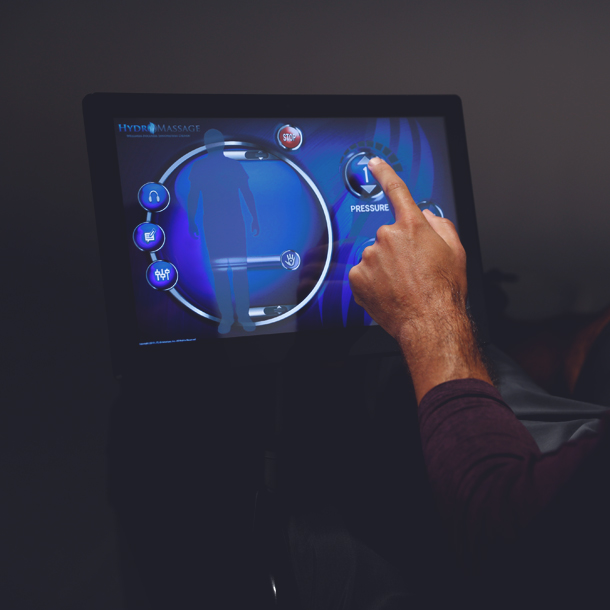 FIRST CLASS
DESIGN SUPPORT
HydroMassage® zones are an integral part of many of the top fitness chains across the world and we can work with you to design a HydroMassage zone within your club to ensure you achieve maximum returns.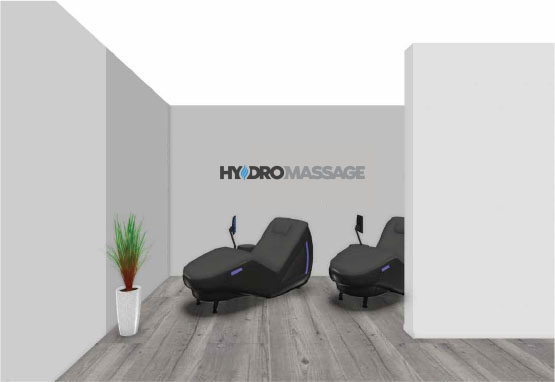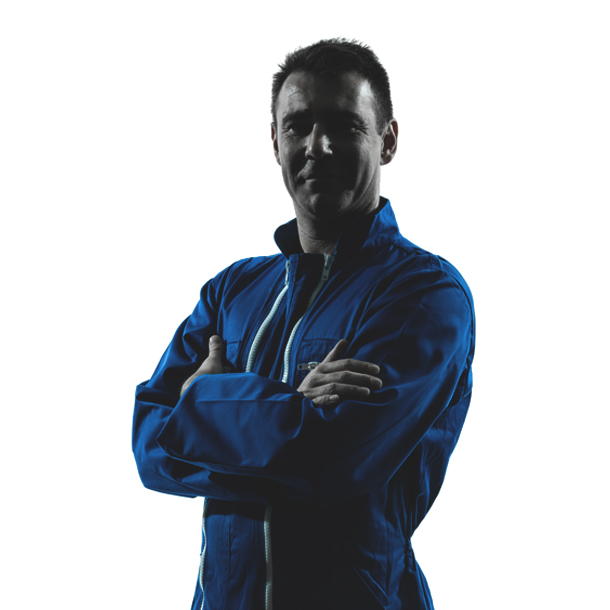 Easy
installation
Forget any concerns around space, and expensive or disruptive plumbing. The beauty of a HydroMassage® bed or lounger is that it's self-sufficient. It doesn't need to connect to your plumbing and can be placed wherever you have space.
Marketing support
to boost success
Driving revenue is just what we do. Backed by more than 30 years of hands-on marketing and strategy experience, we believe our knowledge puts us in the best place to tackle your challenges. We know where you're coming from, because we've been there too.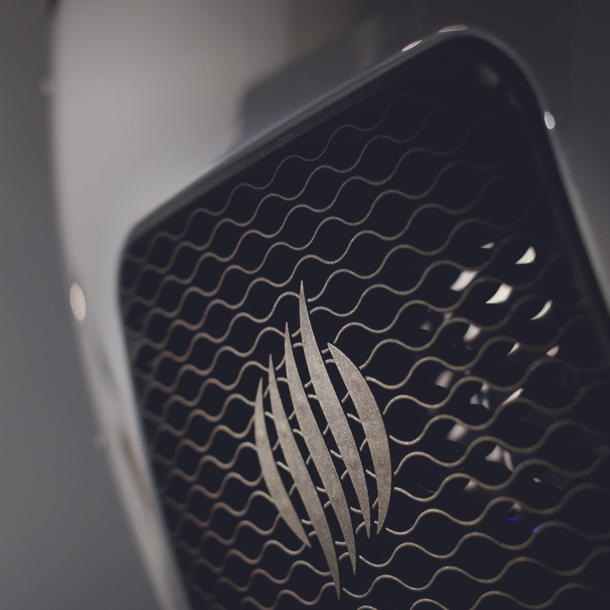 NEIL BOZZONI
Franchisee
Anytime Fitness, Newbury

"There are very few pieces of equipment or services on the market than can add value to your membership and give you a direct return on your investment like the HydroMassage"
Let's talk – 01642 931012