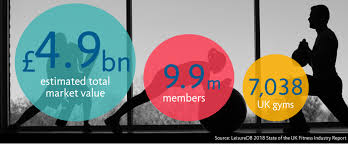 Many industry leaders and professionals believe that this Covid 19 pandemic will without doubt change the way the fitness industry operates in the future. As the period of closure extends members behavior will change and they will drop into a number of groups
Those who can't wait to return to the gym and will reinstate their DD immediately.
Those who are usually unmotivated and always at risk of cancelling their membership. These will quite happily use this period of closure as a good enough reason not to return to the gym. So these hard to reach members will become even harder to reach, so you need something more appealing to entice them back.
Then there are those who will have formed a new exercise habit, be this walking, running or cycling outdoors or the many thousands who have taken to on demand fitness classes in their own environment. Will they be hooked and will they question whether they really do have to travel to the gym to get their exercise fix?
One positive is that you will get others who come out of this situation with a new lease of life and will want to invest in their health and wellbeing. But are you offering more than your competitors who will be trying even harder than before to entice prospects?
This is a worry for everyone I talk to. In my opinion questions that gym operators need to ask themselves during this period of closure are;
How many members from the above groups will return to their gym membership?
If lots of members do not return due to some of the reasons set out above, do I have a strategy in place to increase my membership yield to bridge the shortfall in membership fees?
How can we change our membership offering to include something innovative and some of the things noted above that will entice members to return?
Is growing membership yield over membership volume the key to our success when we get through this dark tunnel?
These are important questions that need to be answered and now is the time given you have some unwanted breathing space to undertake the necessary due diligence.
We have tried and tested solutions to all of these problems, come and chat to us, you have no obligation and nothing to loose.
My experience as a facility operator in the industry for over 25 years, from the lower ranks to Managing Director, is extensive, especially my experience of leading organisations through enforced long periods of closure due to unforeseen circumstances.
What we offer…
Full review of your membership structure, pricing and proposition
Proposal on how to increase membership yield and proposition
Sales and marketing strategies
Plus more…
TVI is a leading UK supplier of innovative fitness and wellness products and leisure consultancy. Based in the Northeast on England, TVI works predominantly with UK fitness and leisure operators to improve their service offering, promote active lifestyles, and their profitability, as well as companies in the corporate, education and health sectors, which it services via three company divisions: TVI Fitness, TVI Wellness and TVI Consulting.
TVI works with key partners and stakeholders to develop new and exciting services to respond to changing market demands and to support people of all ages, backgrounds and abilities with the aim of inspiring them to engage in physical activity to improve their life and their lifestyle.
Established in 2013, TVI Fitness and TVI Wellness has quickly grown to become the nation's largest supplier of some exclusively licensed fitness and wellness products, carefully sourced and imported from America, and recently adopted by some of the UK's leading brands in leisure, including Pure Gym and Anytime Fitness. Complementing these divisions, TVI consulting works to provide ancillary support and expertise to help companies improve their service delivery and profitability.
TVI was founded by Ian Donley, CEO, who boasts over 30 years experience gained working for leading UK companies in the private, public and third sector, successfully launching, developing, and transforming their businesses. Passionate about innovation, Ian sources cutting-edge solutions, carefully selected to bring new dimensions to the existing UK fitness and wellness industry. Products and services offered are designed to provide rewarding and life-enhancing benefits to the user, while also providing a sustainable investment and a significant return for the company.
TVI Fitness is a licensed supplier of Wellbeats® virtual fitness solutions — a cutting-edge interactive fitness portal, available anytime and anywhere, with classes for children and adults.
TVI Wellness is a licensed supplier of the HydroMassage® dry hot water massage beds and loungers – a convenient solution for fitness clubs, designed to aid with relaxation, rejuvenation and recovery.
TVI Consulting provides support with business development and aids specifically with planning, new product and service implementation, promotion, training, customer engagement and profitability.
For more information visit www.teesvalleyinnovation.com