As we approach the day when gyms reopen their doors everyone is starting to develop their strategy to ensure they retain as many members as they can, coupled with maintaining the highest possible membership yield and controlling costs.
It is clear that existing members and prospective members will fall into a number of groups:
Those who will return to the gym as soon as you open.
Those who have always been at risk of leaving (sleepers) and will take a huge effort to entice back.
Those who are afraid to visit public places.
Those with reduced disposable income
Those who have developed a new exercise habit, be this walking, running, cycling etc. This also includes those who have taken out a On Demand Digital Fitness membership with one of your competitors. When I say competitors I mean those companies that sell their virtual fitness product direct to consumer, which includes your members and prospects.
Those who will come through the other side of this ordeal with a new prospective and are keen to invest in their health and wellbeing.
How can your In-House On Demand Digital Fitness service help you engage with 100% of your membership base and beyond?
It is important that you present your On Demand Digital Fitness service as part of your brand. This prevents you signposting your members and prospects to an external third party On Demand Digital Fitness provider who will be legally entitled to target your members directly whenever they want. This can be very damaging given the high % of members who have now adopted Digital Fitness as their new workout habit.
At the moment there is a lot of streaming live classes being offers by gyms via social media platforms, FaceBook etc, and I have no doubt some may continue with this service if finances allow, and everyone takes serious then duty of care required when delivering a service to their members away from the club.
But when you think about it these live classes are in the main providing a service for the 20%/30% of members who usually attend live classes during normal operation.
You need a On Demand Digital Fitness system that appeals to 100% of your membership base.
You need to procure a system that provides a far reaching library of classes that not only caters for physical activity, but for nutrition, wellness, varying levels of fitness, ability and confidence.
Your customer should be buying their On Demand Digital Fitness service from you and your brand ensuring you retain your customer relationship and profit.
Your strategy should allow you to retain your data, revenue and reputation as one stop fitness shop.
Your In-House On Demand Digital Fitness service will allow you to develop a new flexible membership pricing strategy that will appeal to all the groups noted above. Without this you are making it extremely difficult to engage, appeal and retain a big percentage of your customer base.
How can your In-House On Demand Fitness service help shape your membership pricing strategy?
Without addressing your membership structure and pricing you are missing an opportunity and putting yourself at a disadvantage.
If you weave your In-House On Demand Digital Fitness service into your membership strategy and pricing structure this will enable you to reach the whole of your membership base, plus further afield, and retain the highest possible membership yield.
Give the below example some consideration
Membership Option 1 – Full Membership – e.g. £29.99
Ideally you want members pay their usual membership fee when you reopen, but this will be hard to command given the restrictive access. However, if you offer your own 'At Home' On Demand Digital Fitness service alongside access to the gym this will allow them to work out at the gym and at home, if this service is good enough members will be happy to pay their usual fees. And when things get back to 'normal' this service no longer becomes free but they can bolt it onto their exiting fees for a fee.
This is also a great deal for those investing in their health and well-being for the first time, the excitement of joining a gym for the first time and the option to improve their fitness and confidence levels in their own environment via their 'At Home' On Demand Fitness service is an added bonus, so don't rule out attracting lots of new members.
Membership Option 2 – At Home Digital Fitness Membership – e.g. £9.99
This option can appeal to various groups
Those who are hard to encourage back to the gym (at risk/sleepers). You can now market to these members with your 'At Home' On Demand Digital Fitness service. This service is coming direct from you, you are not inconveniencing them by pushing them to another company. This allows you to recover some of the full membership fee you may have lost, retain your customer relationship and in time you may encourage them to return to full membership again.
Those who have reduced income due to job loss etc and who want to be a member but can't afford the full membership fee.
The 84% of the population who are not members of a gym and may never be because they like to exercise in their own environment. This market is not exclusive to the virtual fitness companies who sell direct to consumer.
Membership Option 3 – Pay and Play
A day visit gives members flexibility but also gives you leverage to upgrade to a full membership based on value for money.
Membership Option 4 – Premium Membership – e.g. £39.99
Do not be afraid to introduce a Premium Membership at this moment in time.
If you don't already have a premium membership there will be a percentage of your members would do have the disposable income to pay for this.
If packaged correctly you can develop a cost effective high value membership that can increase membership yield. It does have to include some unique services members have never received previously as this will be one of the main levers to encourage members to upgrade.
You have nothing to lose with this option, if is not taken customers have other cheaper options available.
Wellbeats on Demand Digital Fitness system can help you achieve your In-House On Demand Digital Fitness service.
Turnkey digital fitness solution that sits behind your 'at-home' brand.
We are not new, started in 2008 by gym owners who knew what their members wanted
You are not signposting your customers to an external third party.
Your customers come to your brand for this service.
You control your finance and data.
Wellbeats provides a turnkey solution that will appeal to 100% of your membership base
Over 500 classes
22 channels (including all your traditional channels, plus nutrition, mindfulness, children, running, offices based)
16 workout plans with a desired outcome
Fit tests
Designed for kids through to adults
Classes for beginners to advanced
Members can download up to 20 classes for when they are outside internet connection.
Fitness assessments
Recommended classes and workouts for each individual
Save favorite classes to your favorites list
Progress stats benchmarked again global averages
Simple class find function
Easy to add and delete streaming members
Price as low as £1.20 per member per month
Very easy administration
Classes refreshed on a regular basis
Global trending channels, classes, instructors etc
Trip advisor type function to guide to help members make an informed choice
Plus more…
HydroMassage can help drive your Premium Membership upgrades and sales
Let us demonstrate how this amazing system can help drive up your membership yield
24/7 automated massage is a service you do not have in your gym at the moment
This is one product that convinces members to upgrade to your premium membership
Free site survey
Free ROI strategy
Free sales and marketing strategy
Free 3D drawings
New low start lease options available
Features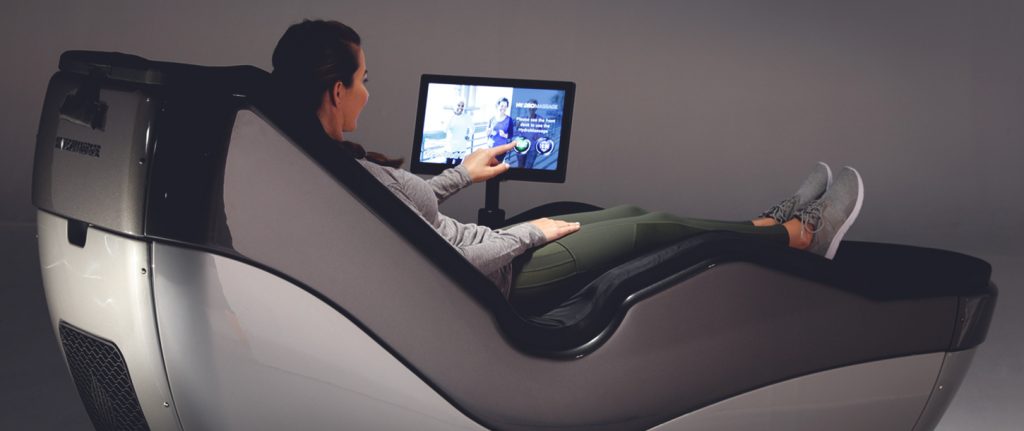 Access control
No staff required
Super convenient
No undressing
No post showering
Member controls the massage

Speed
Intensity
Pause on different parts of the body
Design their own massage based on their needs
Plus more…